City of Cleveland - Public Health Staff:
Cleveland Department of Public Health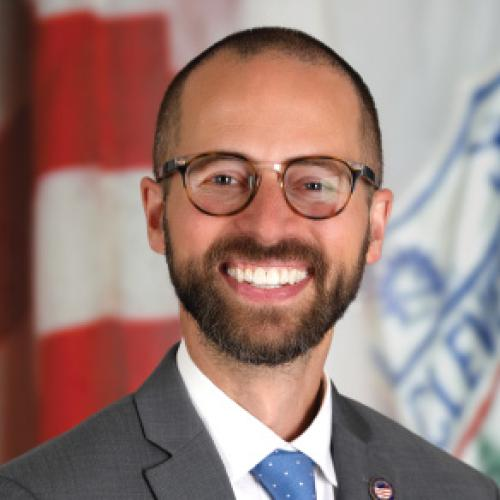 Dr. David Margolius - Director of Public Health
Dr. David Margolius was sworn in as Director of Public Health for the City of Cleveland on August 1st, 2022. Previously the Division Director of General Internal Medicine at MetroHealth, Dr. Margolius brings a decade of experience to the role along with a deep understanding of the impact of Cleveland's social determinants of health. An active educator, he is an Adjunct Associate Professor in the School of Medicine at Case Western Reserve University and was faculty co-lead for the Medical Director Leadership Institute at Harvard Medical School's Center for Primary Care. Dr. Margolius has been published in numerous peer-reviewed journals on a wide range of public health topics from COVID-19 response in underserved communities and the opioid crisis, to hypertension in low-income populations and best practices in primary care, preventative medicine and family medicine.
Dr. Margolius holds an MD from Alpert Medical School at Brown University and a BA in biology from Brown. He completed his residency in internal medicine at University of California, San Francisco where he spent his last year as Chief Resident of Quality Improvement and Patient Safety before returning to Cleveland. He lives with his wife and two children in the Old Brooklyn neighborhood of Cleveland.

Brian Kimball - Assistant Director
From 2020 to 2022, Brian served as Interim Director of Public Health and in October 2022 officially became Assistant Director. In this role, he oversees the Administrative Division of the Department and support the advancement of the department's vision, mission, and values. From 2016 to 2020, he served as Commissioner of Environment. He was responsible for overseeing Environmental Health programs including Food Safety, Solid & Infectious Waste, Local Health Code enforcement, Public Pools and the Childhood Lead Poisoning Prevention Program. In this role, he aligned services to address the social determinants of health with the aim of improving public health outcomes for our residents.
Just prior, he spent over 12 years successfully leading both the Childhood Lead Poisoning Prevention and Lead Hazard Control programs for the City which restored program success. As a subject matter expert, Brian worked with community groups to organize workshops and events to educate parents and young children about the dangers of lead in paint and informed policy makers and stakeholders of the link between health and housing. Brian has over 19 years as a Public Health professional for the City of Cleveland including serving as a Public Health Sanitarian working and leading various environmental health programs.
Brian earned a Bachelor of Science at Cleveland State University in Environmental Studies. Most recently, he completed the Kresge Foundation's Emerging Leaders in Public Health initiative, which equips local public health officers with knowledge and skills to transform the role of public health in their community, and the Cleveland State University Leadership Academy, which provides leadership development for governmental and nonprofit organizations throughout northeast Ohio.

Wallace Chambers - Commissioner of Environment
Wallace began his career as a registered sanitarian for the Akron Health Department. Wallace is a registered environmental health specialist as well as a healthy homes specialist. During his career in public health, he has worked for Akron, Summit County, and Cuyahoga County health departments. He has supervised the Lead Program (Akron Health Department), worked in Air Quality (Summit County Public Health), and most recently served as Deputy Director of Environmental Health (Cuyahoga County Board of Health). He earned his Doctorate in Public Health from Kent State, his Master of Applied Science from Johns Hopkins Bloomberg School of Public Health, and his Master of Health Administration from Ohio University. He serves on numerous state and national boards, including the CDC Lead Exposure and Prevention Advisory Board which updated the elevated blood lead reference level to 3.5 micrograms per deciliter.

Frances Mills - Commissioner of Health
Frances is the Health Commission of the Cleveland Department of Public Health. In this capacity, she oversees the work of the Cleveland Office of Minority Health, Healthy Cleveland, MomsFirst, the Office of Mental Health and Substance Abuse, the Office of HIV-AIDS and Vital Statistics.
Frances joined the Department in 2015, where she served as Grants Administrator for the MomsFirst Program. In 2016, she was promoted to Director of the Office of Minority Health. In 2017, she accepted additional responsibilities serving as the Department's Director of Community Health Initiatives providing leadership and oversight of the Cleveland Office of Minority Health (COMH) and the Healthy Cleveland Initiative, whose programs inform, educate and empower individuals, organizations and communities on health disparities and inequities impacting persons of color, underserved and other disenfranchised persons. She assists in building capacity among health serving organizations and works to improve health disparities, eliminate health inequity and advance health and racial equity in NE Ohio.
Prior to her employment with the Department, Frances served in diverse non-profit and government roles in substance abuse prevention, alcohol and other drug treatment, mental health, homelessness, crisis and trauma services. She has consulted in the HIV sector and maternal and child health.
She served as the Deputy Director of the Alcohol and Drug Addiction Services Board of Cuyahoga County where she was responsible for directing the Board's $38M business, program and planning operations and leading a staff of management personnel to fulfill the Board's short and long range goals. She led the Board's procurement process, including contracting, policy and protocol development and implementation. She also served as lead staff in the development and implementation of the Board's strategic planning process, fiscal operations and continuous quality improvement activities.
She represented the Board in the development of special initiatives and was a principal in the Board's key collaborations to develop and improve service planning and service delivery for individuals impacted by the use, misuse and addiction of alcohol and other drugs.
Frances is a Doctoral Candidate (ABD) at Ashland Theological Seminary in the area of Transformational Leadership. She has a MDIV with a focus in Practical Theology from Ashland Theological Seminary and a B.A. in Communications from John Carroll University.

David Hearne - Commissioner of Air Quality
David Hearne is an accomplished public health executive with demonstrated expertise in air quality regulation. Since 2016, Mr. Hearne has served as the Interim Commissioner for the Cleveland Division of Air Quality. In this capacity he oversees all management, planning, and operations for this local air agency a delegated representative of Ohio EPA.
Mr. Hearne has more than 35 years of air pollution regulatory development experience from the U.S. EPA consulting sector and public sector management experience as the Chief of Engineering in the Division of Air Quality.
Mr. Hearne is a member of the National Association of Clean Air Agencies and the Ohio Local Air Pollution Control Officers Association. He serves as the chairperson on the Air Quality Subcommittee with the Northeast Ohio Area-wide Coordinating Agency. He holds a B.S. in Biology from Randolph-Macon College in Ashland, Virginia, and a M.S. in Environmental Biology from George Mason University in Fairfax, Virginia. In 2010, he completed the Cleveland Management Academy curriculum at Cleveland State University - Levin College of Urban Affairs.

Lita Wills - Commissioner of Health Equity and Social Justice
Lita Wills is an experienced leader in the public health, non-profit and education sectors. As Commissioner of Health Equity and Social Justice, Lita oversees MomsFirst, the Office of Mental Health and Substance Abuse and the Office of HIV/STI. She has more than 20 years of experience in community health, education and prevention. A Cleveland native, she began her professional career at The Free Clinic of Greater Cleveland, leading HIV Prevention and the 2nd largest HIV Testing Program in the state of Ohio at the time. From there she served as the RSB Supervisor for the Cleveland Metropolitan School District, implementing ground-breaking K-12 comprehensive prevention education.
Lita continued her career in the Mahoning Valley at The Rich Center for Autism at Youngstown State University as the Associate Director of Development. There she was able to implement outreach programs sponsored by the Centers for Disease Control to improve early Autism interventions for African American and Latino Communities. She later served as the Executive Director of the Mahoning Valley College Access Program, increasing post-secondary attainment for students in the districts of Warren and Youngstown, Ohio. She served as the Director of Community Impact at The United Way of Youngstown and the Mahoning Valley guiding community investments to more than 40 partner organizations, leading COVID-19 Emergency Response Funding, and creating internal and external Diversity Equity and Inclusion policies.
Lita earned a Bachelor of Arts from Cleveland State University and a Master of Public Health from Kent State University as part of the Consortium of Eastern Northeast Ohio MPH programs. She was also a fellow in the Robert Wood Johnson Ladder to Leadership Program for emerging community health leaders.