CLEVELAND DEPARTMENT OF PUBLIC HEALTH

A Letter from the Director of the Cleveland Department of Public Health

March 16, 2020

Dear Cleveland Residents and Visitors:

As you are all aware, the Novel Coronavirus (COVID-19) has spread across the globe and throughout the U.S., including in Ohio. On March 14th, 2020, Cleveland Mayor Frank G. Jackson announced the first confirmed case here in the City of Cleveland.

While the Mayor and Ohio Governor Mike DeWine have already made announcements that will temporarily change our day-to-day lives, I want to assure you that the Cleveland Department of Public Health is working tirelessly to try to keep as many people healthy as possible. Along with our partners, we are also working alongside of the Cuyahoga County Board of Health, the Ohio Department of Health (ODH) and the Centers for Disease Control and Prevention (CDC) to closely monitor COVID-19 and employee containment and mitigation strategies.

We understand that these are challenging times and that itís natural for people to ask what they can do to protect themselves and those around them.

We ask that you heed to any orders that are made by the Mayor and the Governor, such as banning gatherings of 100 or more people and closing bars and restaurants, as this is being done to preserve the health of our friends and family.

If you develop a fever and have a dry cough or are experiencing shortness of breath, please call your healthcare provider immediately BEFORE you visit an emergency department or doctorís office.

In addition to those measures, you are encouraged to take everyday precautions to prevent illness, including colds and the flu:

Please stay at home if you are feeling sick.
Avoid close contact with people who are sick.
Wash your hands often with soap and water for at least 20 seconds. If hand washing facilities are unavailable, use a hand sanitizer with at least 60% alcohol.
Avoid touching your eyes, nose and mouth with unwashed hands.
Avoid shaking hands or hugging when you greet someone
Cover coughs and sneezes with a tissue or your sleeve on the inside of your elbow
Clean and disinfect frequently touched surfaces and objects such as door knobs, light switches, tables, countertops, chairs, phones, remotes, keyboards, and touchscreen electronic devices.
Get a flu shot ó itís not too late.
For additional up-to-date information, visit:
CDC Novel Coronavirus Information: https://www.cdc.gov/coronavirus/2019-nCoV/index.html
CDC Travel Guidance: https://www.cdc.gov/coronavirus/2019-ncov/travelers/index.html
ODH Coronavirus Information: https://coronavirus.ohio.gov

Sincerely,
Merle R. Gordon, Director
Cleveland Department of Public Health






Welcome

The Cleveland Department of Public Health (CDPH) is the local public health agency for the City of Cleveland. Formally established in 1910, the department is charged with improving the quality of life in the City of Cleveland by promoting healthy behavior, protecting the environment, preventing disease, and making the City a healthy place to live, work, and play. The Cleveland Department of Public Health is made of a range of programs providing clinical, environmental, health promotion, and population-based services. The department has an annual budget of $21 million and is staffed by 180 full- and part-time employees.

CDPH ensures a high quality of resources and services through various partnerships in the greater Cleveland community. For example, CDPH has initiated and maintained working relationships with Case Western Reserve University, Metro Health Medical Center, Veterans Affairs Medical Center, Cuyahoga County Board of Health, Lakewood and Shaker Health Departments, the Center for Community Solutions and others. These partnerships provide the cornerstone of successful preventive public health care services to meet the needs of the residents of the City of Cleveland and throughout the Greater Cleveland community.

Thanks again, we look forward in having you back each and every day!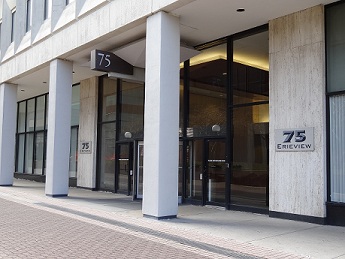 Cleveland Department of Public Health - 75 Erieview Plaza
Visitors Guide!